Driving lessons in and around Sutton Coldfield, Lichfield, Tamworth and Coventry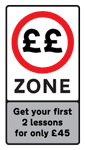 Learning to drive can be a intimidating prospect. Whether it's your first lesson on your 17th birthday or your latest attempt to beat the test, our male and female driving instructors are very patient, friendly and professional. They'll put you at ease with our friendly lessons and identify the areas where you are weak, be it a lack of confidence, or even if you have slightly too much!
Your Instructor will be someone local to you who knows your area well, as well as all the local test routes.
We pride ourselves on having really high pass rates and more than that we pride ourselves on training drivers with our practical lessons who are more than just simply qualified. So what are you waiting for? The sooner you book your driving lessons the sooner you can tear up your bus fare for good!
Coverage
Our School of Motoring is based in the West Midlands and covers Birmingham, Coventry, Erdington, Lichfield, Solihull, Sutton Coldfield and Tamworth
Looking for that first car? Well let us help! We recommend TM auto centre. For that affordable car from £1000 to about £3000 look no further! Remember to quote AL2D for special offers!
Become an Instructor

We are currently looking for new instructors to grow our business in the West Midlands area. We can offer you full ADI training for parts 1, 2 and 3 with a guaranteed position with our Driving School on completion.
Value for Money

You may be able to find cheaper deals out there, but we believe that our value for money is second to none. We are currently offering all new students an unbelievably good introductory offer, get your first two hours for only £45 including free on-line theory and hazard perception training. Click here for more details.
Most of our students find us through recommendations from their friends and family, so we must be doing something right!
If you want to see about what our former pupils think about us Click here to read their Testimonials.
Meet Us Online